Transcend 512GB NVMe PCIe Gen3 X4 3,500 MB/S 110S M.2 Solid State
KSh15,000.00 Excl VAT
Key Features
512 Digital Storage
3, 500MB/s read and 2, 800MB/s write
 NVMe 1. 3
Pcie (or PCI Express)
Compare
Supreme transfer speeds
Transcend's PCIe 512GB SSD 110S follows NVMe 1.3 and utilizes the PCIe™ Gen3 x4 interface, meaning four lanes are used for transmitting and receiving data simultaneously. Its 8-channel controller supports ultra high data throughput, resulting in compelling performance of up to 3,500MB/s read and 2,700MB/s write. PCIe (or PCI Express®) is a much faster interface than SATA (or Serial ATA) for connecting a host computer to solid-state storage devices over one or more lanes consisting of one transmit and one receive serial interface in each lane, meaning it can better fulfill new performance requirements.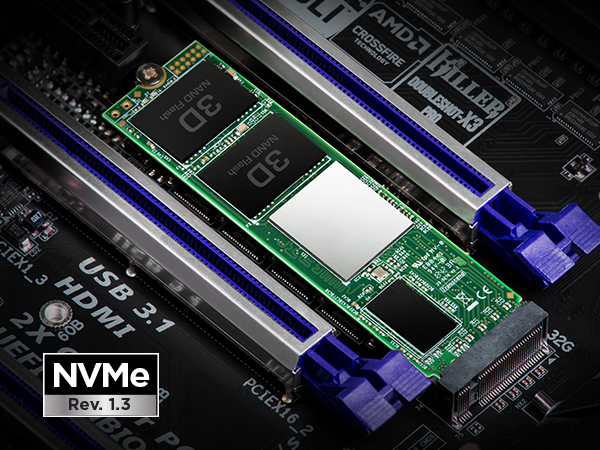 3D expansion to break through limits
Unlike planar NAND memory, Transcend's PCIe SSD 110S  has 3D NAND flash features memory cells stacked vertically in multiple layers. 3D NAND overcomes density limitations of 2D planar NAND, and delivers a higher level of performance and endurance. Better endurance, higher reliability, Transcend's PCIe SSD 110S is engineered with LDPC (Low-Density Parity Check) coding, a powerful ECC algorithm, to keep data secure. Manufactured with high-quality 3D NAND flash chips, and engineered dynamic thermal throttling mechanism, the Transcend PCIe SSD 110S guarantees superior endurance and stability for high-end applications.
Key Features
512 Digital Storage
3, 500MB/s read and 2, 800MB/s write
 NVMe 1. 3
Pcie (or PCI Express)
Order the Transcend's PCIe 512GB SSD and have it delivered to you within 24 hours countrywide or same-day delivery within Nairobi. Pay on delivery via cash or Mpesa.